Yes, if not managed properly.
No, if you use Digimax.
Let us explain. Google wants a better Internet. They want the world wide web to have high-quality websites that load fast, offer an amazing experience, and work incredibly well on mobile phones. If redesigns were detrimental to SEO, this would mean Google wouldn't be prioritising the best-performing sites in the Google index, and no company would ever redesign their website.
The key is to redesign your website cleverly to ensure you retain the benefit of your previous SEO work, backlinks/mentions on other websites. This is why we go through a very careful migration process.
During this process, we will map out a list of all your old pages, and the location of the new ones on the new site, so we can inform Google about the redirects. Google has provided public information on how to make this as smooth as possible, with minimal or no impact to the website, and we understand this guidance as clearly as if we had written it ourselves.
As a company with the largest SEO team in Dentistry, it's our responsibility to be up to date about the best way to manage new website launches.
Google doesn't want historic links (the hard work of an established site) to stop working, so we make sure we create '301 redirects' and inform Google of your new sitemap. This way, nothing is left to chance.
We have migrated sites that rank no.1 for competitive terms in many areas and, after the redesign and careful migration, it is as if nothing ever changed. It is true that, right after launch, a website can experience fluctuations in rankings, but they tend to settle.
If a website were to lose rankings permanently, it would be pure coincidence and would not be linked to the migration process or redesign. At the same time, some old backlinks could have become obsolete, or Google's ever-changing algorithm could have affected the sites rankings. If that were the case, then that would have occurred even before the website redesign.
Technical steps that should be followed to recover SEO traffic & rankings after a website redesign
Copy over the onsite work from the previous site with minimal changes (Metadata and more)
Ensure Robots.txt file is accessible
Once the site is launched, utilise Search Console (Webmasters Tools) to check for broken links,
and fix them asap to avert penalty.
Submit a new XML Sitemap to the Search Console
In the Search Console, inform Google about your site move to a new address under Settings >> Change of Address (only if you move to another domain)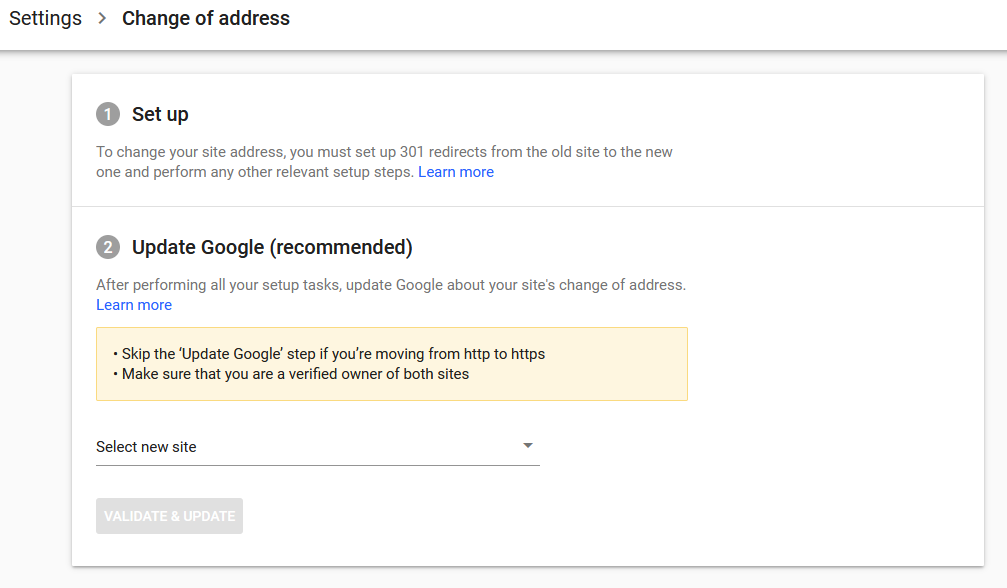 What if you're changing domains?
If you're changing your website URL, all your old pages should be replaced with redirects to the new ones. You should maintain these redirects for at least 180 days, and you should do so for longer than this if you see the old pages getting traffic from Google Search. After 180 days, Google will no longer recognise any relationship between the old site and the new one. If the old site is still active after this time, it will be treated as a separate entity.
Ultimately, if you feel it's time for a redesign, don't let the fear of Google ranking loss hold you back. Just make sure you do it carefully and cleverly.
Disclaimer: No company in the world can guarantee an increase and drop in rankings as only Google can make such guarantees, which they don't.
Tags