Sponsored Water Walk
London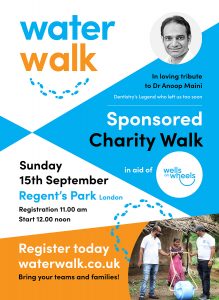 I would like to invite you all to walk on Sunday 15th September, and to bring your teams, families and children. It would mean a lot to me if you could attend and help me to give young girls in rural India a better future.
We recently received some extremely sad news. The passing of Dr Anoop Maini has truly shaken the dental profession. Anoop was not only a renowned dentist, he was a Father, Husband, Son, Mentor and overall inspiration to anyone he came into contact with. This event, with the permission of his wife Neera Maini is a tribute to Anoop.
Let's do something amazing together in his name.
Date: 15th September 2019
Venue: Regent's Park, London
Registration: 11.00 am
Walk starts: 12.00 noon
Please register as individuals or teams by visiting www.waterwalk.co.uk
Learn more about the charity Wells on Wheels here